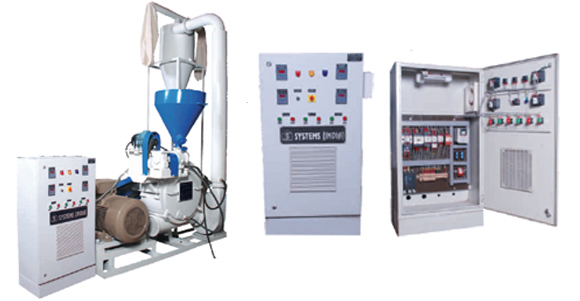 PULVERIZER – Introduction
Impact Pulverizer is suitable for pulverizing of rigid Plastics material. Impact Pulverizer consists of specially designed alloy steel liner. The liner is in half round shaped, the upper part of the liner is cooled by water circulation to maintain from 40 C to 50 C temperatures. The cooling is done in such a manner that the maximum heat transfer takes place in regular cycle.
The following are the special feature of the machine.
HAMMER
Sixteen hammers are fitted with rotary block one end is fixed with bolts and the other ends of the hammer are "V" shape teeth rack. These hammers rotate in clockwise direction with a certain space to the liner. Hammers are balanced to avoid vibration and gives smooth service.
COOLING JACKET
Five water cooling jackets are provided to keep the entire body cool to maintain temperature.
BEARING HOUSING
This is fabricated with MS body fitted with water jacket and good quality high speed bearing for longer and troubles free service.
FRAME
Frame is fully reinforced to absorb any types of vibration during operation.
CONTROL PANEL
Equipped with starter voltmeter, ampere meter, rotary switch and phase indicating lamps.
DOSING DEVICE
Dosing Device for automatic feeding fitted with AC motor with variable drive to enhance smooth/uniform feeding.
CYCLONE
Cyclone with water and air cooled conveyor pipe to keep Pulverized material cooled down for storage/recycle and to enhance production capacity.
IMPORTANT: It is observed that mixing of pulverized material by 10-15% with fresh PVC compound in Twin Screw extruder the production capacity is increased by 2% to 5% and get better gelatinous rate, which improves all properties of PVC pipe e.g. Impact Strength, Reversion, Short Term, Long Term test etc.Please Note: for betterment above specifications can be changed without prior notice.